#44 vs #47 Miniature Pinball Lamps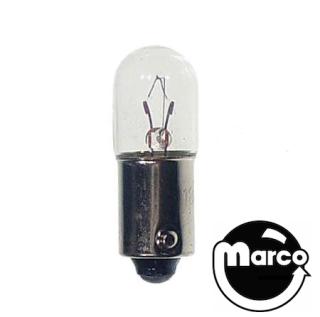 Historically, the most common miniature incandescent lamp/light bulbs used in pinball machines are the venerable #44 and #47 bayonet-style miniature lamps. While many collectors are putting LEDs in their machines, purists still prefer miniature lamps for the classic look, color temperature, and color-rendering of miniature lamps.
The #44 lamp is often the preferred lamp from the manufacturer – the main benefit being that it's brighter than its #47 cousin.  Never forget that a pinball machine's first and foremost purpose is a commerical piece of equipment designed to attract casual users, so many design decisions are made pursuant to this goal.  When a pinball machine enters home service, however, the goals change and the other lamps make more sense.
When a lamp is used in a situation where it is continually on in an closed area like a pop bumper cap, or very close to a playfield plastic, Marco recommends using the cooler #47 lamps.  They emit 40% less heat than their #44 cousins and as such are less likely to leave discolorations on your plastics over time.  For lamps that are not continually on such as feature lamps (under playfield inserts), the #44s are usually a better choice as they are brighter.
Here are the specs on the miniature lamps/bulbs available from Marco.
| Feature | #44 lamp | #47 lamp |
| --- | --- | --- |
| Volts | 6.3 | 6.3 |
| Amps | .25 | .15 |
| Watts | 1.575 | 0.945 |
| Rated Life | 3,000 hours | 3,000 hours |
| Base | Miniature Bayonet | Miniature Bayonet |
| Bulb | T-3 1/4 | T-3 1/4 |
| MSCP* | 0.9 | 0.5 |
| Lumens | 11.3 | 6.3 |
*MSCP = Mean Spherical Candle Power. Lumens = MSCP * 4 * pi.
"General Illumination" in a pinball machine are the series of lamps that are "always on". In older games, these come on immediately when you flip the power switch.  In games post 1990 or so, these can be digitally controlled.  Switching some or all of the general illumination lamps to #47 bulbs will reduce the power used by the game. If you have a large gameroom with multiple games, you can save a lot of power!